What to Know
YouMail estimates 4.4 billion robocalls were made to Americans in September, an all-time monthly high
More than 60 percent of robocalls were from telemarketers or scammers
The Bay Area ranked No. 9 among major metro areas for robocall volume; California ranked No. 2 out of the 50 states and DC
Robocalls to Americans' phones hit an all-time high in September, and the number of unwanted calls shows no signs of slowing.
That's the finding of Irvine-based tech firm YouMail, which released its latest Robocall Index this week. YouMail says Americans received 4.4 billion calls last month -- an average of 147 million calls per day -- up more than 4 percent from a month earlier.
While many robocalls come from legal sources, such as political campaigns, banks, and pharmacies, YouMail says scams and telemarketers are behind nearly two-thirds of such calls. Illegal scams alone make up about 41 percent, according to YouMail's figures.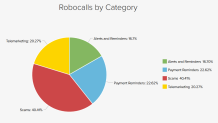 California, the nation's most-populous state, ranked No. 2 overall for robocalls, at about 490 million, just behind Texas, with 501 million. YouMail said the Bay Area received the ninth-most calls of any major metropolitan area, with about 83 million calls to numbers in and around San Francisco, Oakland, and San Jose.
CEO Alex Quilici recently told NBC Bay Area YouMail uses data from calls made to customers of its call-filtering app to calculate its robocall index.
"It helps us understand where the problem is the biggest, and then we can start exploring more data in those areas, to try to understand why, and then feed that back and improve our service," Quilici said. "Originally, we did the robocall index because nobody was measuring the scope of the problem."